Hapag Lloyd's US $550 Million Container Order Hapag-Lloyd, the fifth-largest container line by TEU capacity, has ordered 150,000 TEU of standard and reefer containers for some US$550 million. In light of the current situation the need is significantly larger than the normal number of boxes to carry the same volume because boxes are turning slower.The container shipping line has ordered 150,000 TEU from China – both dry boxes and state-of-the-art reefer containers. Additionally, Hapag-Lloyd has ordered 8,000 TEU of special containers to be used for over-sized or dangerous goods."The container shipping industry is currently seeing unprecedented demand, which has led to a shortage of containers all over the world. With its recent container orders, Hapag-Lloyd is contributing to efforts to ease the current situation and will be able to offer its customers a much better service," says Rolf Habben Jansen, CEO of Hapag-Lloyd.The investment amount of roughly USD 550 million – has made it one of the biggest container orders in the history of Hapag-Lloyd.For more information please contact your sales representative on 1300 786 468 or [email protected]
One Step Closer to Wind Propulsion on Commercial VesselsIn shipping news BAR Technologies and Yara Marine Technologies are both in agreement to design and start implementing a wind-assisted propulsion for the shipping industry.The proposal of WindWings are 45-metres-tall solid wing sails fitted to the deck of ships to use the power of the wind in a bid to reduce emissions.The companies plan is to be ready for delivery of the first commercial vessel to be carried out next year.
Photo: thedcn.com.auReports say WindWings could reduce fuel consumption by up to 30% for bulk carriers, tankers and other large vessels, according to the partners. The companies say this can be carried out by combining wind propulsion and rout optimisation.Yara Marine is set to offer the technology and manage the procurement, construction, installation, service and training for the WindWings to ship owners around the world, with BARTech retaining the obligation to continue to innovate and establish additional WindWings offerings.BARTech chief executive officer John Cooper said working with Yara to deliver the first installation of WindWings sets the benchmark as a true industry first."Moving forward, the time is right for WindWings to be offered across the global industry, by benefitting from Yara Marine's extensive network and experience," he said.Yara chief executive officer Thomas Koniordos said most of the value chain is already set up, and the company is getting ready to sell and deploy the product."Since we first began discussions with BARTech, we've been increasingly impressed with the scope of the technology, and the firm's commitment to continue to refine and develop the offering. We're very much looking forward to beginning work on behalf of Cargill for the first vessel installations," Mr Koniordos said.Cargill president, ocean transport Jan Dieleman said wind propulsion is increasingly important due to its high energy-saving potential, and because it works well with other devices and fuels."WindWings is a novel solution which is a great addition to our toolkit and through our partnership we will bring bespoke wind solutions to customers who are actively seeking to reduce carbon dioxide emissions from their supply chain," Mr Dieleman said.

Sofia Express 064W Update After Stockwell International has received advice last week from shipping line Hapag-Lloyd of a COVID-19 incident on vessel Sofia Express 064W we have been updated with more information. We were informed that a crew member on Sofia Express 064W operating tested positive for COVID-19 while in operations in the port of Tacoma.The affected crew member was immediately isolated ashore and the vessel completed cleaning and sanitization. All crew members were also taking necessary precautions.CDC/USCG had allowed the vessel to depart Tacoma, however, the vessel berthing at Vancouver was delayed pending clearance from PHAC/Canadian Health authorities and quarantine requirements before being allowed to proceed to GCT Deltaport for cargo operations.The latest update is after all crew members tested negative the quarantine was lifted April 18th and vessel will now proceed to Vancouver where is scheduled to complete cleaning and sanitization by April 20. All crew members are also taking necessary precautions to avoid further incidents.The shipping line is now seeking a final approval from the Canadian health authorities/PHEC/ before being allowed to proceed to GCT Deltaport for cargo operations, if everything goes well they are expecting to berth on April 22 to start with cargo Operations.
Queensland's multi-billion-dollar Inland RailA national multi-billion-dollar rail infrastructure project is moving ahead to be built, despite Queensland communities refusing to give up the fight over the 1,700-kilometre rail line. The Scenic Rim town of Peak Crossing that is home to 1,000 people west of Brisbane, will be severely impacted when the Inland Rail is built through the centre of town. Community members have been rallying in a "greenfield" section of the proposed rail line called Calvert to Kagaru.The term "Greenfield" is used to refer to an area where a brand new rail line will be built for the project, instead of using an existing track.Peak Crossing community member Jan McGregor said the new infrastructure would see the "scenic" region become known as the "Rail Rim" once it's built."We're going to have this Inland Rail and in this particular section — it is primarily up on embankments — nearly all of it [will go] through these open flatland areas, [and] be up on 6- to 7-metre-high embankments, culverts and bridges," Ms McGregor said."It will be highly visible so when you drive up the Ipswich Boonah Road to go for lunch in Boonah, you'll be going under a 10-metre-high bridge, with 1.8-kilometre freight rail, very loud diesel freight rail trains, double-stacked with containers.

"This lovely little greenfield area, that Brisbane calls its Scenic backyard, will be invaded by nearly 40 train movements per 24 hours, by 2040."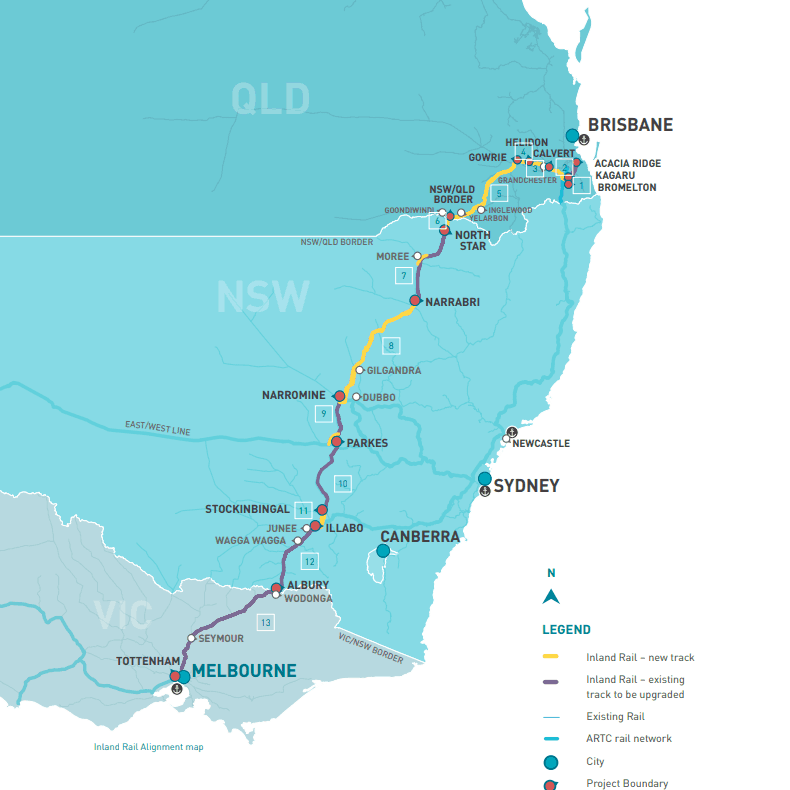 Photo: abc.net.au

In the peak of the coronavirus pandemic in 2020, the federal government green lighted the $14.5 billion project priority to fast-track jobs and kickstart Australia's economy.It is one of 15 major infrastructure projects prioritised for approval.Inland Rail CEO Richard Wankmuller said it's one of Australia's biggest infrastructure projects "since the Sydney Harbour Bridge"."The long-term benefit of Inland Rail is to make the nation more competitive," Mr Wankmuller said."Presently … the way we move goods and products around the country is very inefficient, if you compare it to world standards."As many of us in logistics are aware, some of the country's most frequented roads are clogged with trucks transporting goods.Both the state and federal governments, are working together in arrangement to fund the project, are hoping it will give Australia an economic boost.

"I think it's one of the biggest economic impacts that we can have in this country for a long, long time," Mr Wankmuller said.The end goal of the project will see freight move from Melbourne to Brisbane in 24 hours or less.

Canadian Railmakes nearly $34 billion bid for Kansas City SouthernCanadian railway (CN) has offered to acquire Kansas City Southern in a cash-and-stock transaction worth $33.7 billion.After CN rival Canadian Pacific (CP) last month announced plans to acquire Kansas City Southern (KCS) for $29 billion.
Photo: CN

On Tuesday morning CN said the offer provides "greater value and certainty" to KCS shareholders. CN also will seek to establish a voting trust to acquire KCS, which is what CP was planning on doing for its merger with KCS."Under the terms of the superior proposal made today to KCS' board of directors, following closing into a voting trust, KCS shareholders will receive $200 in cash and 1.059 shares of CN common stock for each KCS common share," CN said in a release. "Based on yesterday's closing price of CN shares, CN's proposal is valued at $325 per KCS share. This represents an implied premium of 45% when compared to KCS' unaffected closing stock price on March 19, 2021, and a 21% improvement over the current value of KCS' agreement with Canadian Pacific Railway Limited."CN already has a T-shaped network that extends to both Canadian coasts as well as to the U.S. Gulf Coast. A merger with KCS would provide access to KCS' operations in Mexico.CN President and CEO JJ Ruest said, "CN is ideally positioned to combine with KCS to create a company with broader reach and greater scale and to seamlessly connect more customers to rail hubs and ports in the U.S., Mexico and Canada. CN and KCS have highly complementary networks with limited overlap that will enable them to accelerate growth in single-owner, single-operator, end-to-end service across North America. With safer service and better fuel efficiency on key routes from Mexico through the heartland of America, the result will be a safer, faster, cleaner and stronger railway."

Shortly after Canadian Pacific slammed the bid by rival CN, describing CN's proposal as "massively complex and likely to fail" because it decreases competition and raises antitrust concerns, according to CP. "Canadian National's ('CN') proposal is illusory and inferior because it creates adverse competitive impacts and raises other serious public interest concerns," CP said. CN earlier Tuesday described its bid as a "superior proposal" to CP's offer. CP continued, "CN's proposal increases regulatory and anti-trust risk for KCS shareholders and decreases benefits for customers, employees and other stakeholders."

KCS acknowledged that it had received an offer from CN. In a statement, KCS said, "The KCS board of directors will evaluate CN's proposal in accordance with the terms of KCS' merger agreement with CP, and will respond in due course. The KCS board of directors has not made any determination with respect to CN's proposal at this time."